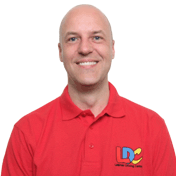 About me
Hi I'm Chris and welcome to my website.
I completed my instructor training through LDC 10 years ago and am fully trained in using the LD system. If you are looking for driving lessons in Batley, Birstall, Cleckheaton, Dewsbury, Gildersome, Heckmondwike, Holbeck, Liversedge, Middleton, Mirfield, Ossett, Pudsey, Ravensthorpe, Wakefield, Wortley and anywhere in between, then please feel free to get in touch.
I live in Batley with my wife Louise, daughter Georgia and son Reece. I have always been interested in teaching, training & personal development.

Before becoming a Driving Instructor I worked in retail for 18 years. I spent over 10 years as an Area Training Manager, and the rest as a Retail Manager. So as you can see, training has always been in my job description and has always been something I enjoy. The people I taught ranged from 18 to 65 and came from a range of different backgrounds. This has required me to constantly adapt my training techniques to suit the individual. I have always known that teaching & training people is what I wanted to do, and becoming a driving instructor was a natural choice of career for me.
I take my job seriously, but also like to have fun doing it. If you decide to choose me as your instructor, I promise you good quality training that will give you a skill for life and the best possible chance of passing your test 1st time.
My interests include football, golf & playing games with my kids.
Well I hope this gives you a brief Idea about me. So please feel free to click here to "Contact me"
Call today on 07939 824293 or Email me to find out more
If you have any questions or to book lessons today, feel free to contact me