Testimonials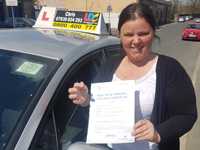 Lana France
I was nervous about learning to drive in my thirties and as my experience with previous instructors hadn't been very positive, I was close to giving it up. However, Chris put me completely at ease, I felt comfortable driving with him, and after first few lessons I actually started to believe that I can learn to drive. Chris is everything you could wish for from driving instructor. He was reliable, extremely patient; it didn't matter how many times I forgot or did something wrong, he would go over it as often as I needed. And aside from his knowledge and command of the road, he is a great fun guy too, and really wants those that drive with him to succeed and become safe drivers.
Chris! Thank you so much for your support and help me to learn to drive, I couldn't have done it without you. I will stay safe and careful on roads and shall definitely recommend you to my family and friends too.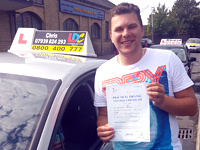 Lukasz
Passed 1st time
Very professional instructor. Not only teach you how to drive be he will as well prepare you for anything. Because of his professionalism the test just feel like any other lessons. Highly recommended.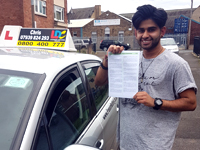 Riaz
1st time pass
Chris was in fact my second instructor as my first one terrible, never really spoke and I just never got taught anything that would help me. However, Chris from the first lesson gave me a book which contained every thing hat he will teach me, it also helped me with my theory test. Chris as a person is very friendly and will talk to you and you can have a good laugh with him which makes the lesson a lot more enjoyable, he will give constructive criticism and make sure you correct your mistakes which is great. He does every thing step by step and makes sure you are confident you can, for example do a hill start or drive in backstreets with confidence etc. He has great techniques to which allow you to master all manoeuvres that are required. I would definitely recommend Chris to anyone looking to pass their test. I passed first time with 5 minors.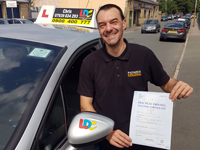 Steve
1st time pass
From the first phone call all the way to a first time pass Chris's skill as an instructor shone through. Not only listening to my expectations and concerns but responding with excellent advice on the best way to proceed. During lessons, Chris's easy going personality and an ability to adapt his teaching technique to suit my learning style made for an enjoyable experience whilst gaining all the necessary skills, knowledge and confidence to go on and pass the practical test.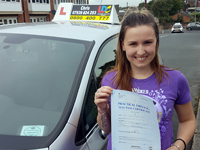 Julia
Another first time pass
Chris is a very reliable driving instructor and got me through my test first time after just 4 months of lessons! I was really nervous from the start but since getting in the car, Chris made me feel comfortable and at ease. He explained everything step-by-step with precision and the way he taught maneuvers was so easy! Never had a bad lesson with Chris, was always looking forward to the next and getting through my test. Highly recommended driving instructor thank you :D' I have been on the motorway a couple of times and found it ok actually! I will definitely recommend :) Thanks again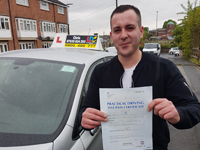 James
1st time pass
Chris is one of the nicest blokes iv had the pleasure of meeting, throughout the course of my lessons he made sure I felt confident with my driving and assured me when the test nerves started to kick in ! I took an extended driving test and with Chris' help I passed 1st time with one minor ! I have had other instructors I the past and they wasn't even on the same level as Chris, I couldn't have done it without his guidance. I'm absolutely over the moon and have already bought myself a car ! Thanks again Chris your a star!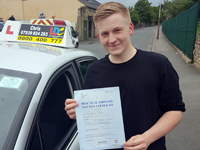 Adam
Chris is a fantastic instructor to learn with. His patience is beyond words and his ability to teach subjects in multiple different ways is impressive to say the least. Anything you may not understand, Chris explains it in another way and makes it easy to learn.
The car itself is also extremely learner friendly and very forgiving.
I would recommend Chris to anyone learning to drive as he has time for everyone and is an all round great guy.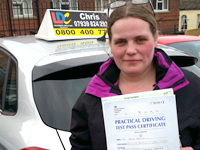 Gemma Garside
Nervous learner
Chris is a fantastic instructor. I was so nervous the first time I started my lessons but Chris was brilliant he put me at ease and when I did do something wrong he would be understanding and would talk me through step by step. If I still didn't understand he just kept talking me through and try different ways until I found one that worked for me. So glad that I chose to go with Chris he is extremely patient. I would definitely recommend him to anyone who wants to learn to drive. Thanks Chris.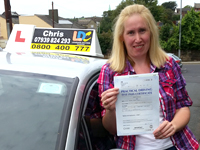 Rachel
First time pass
I would 100% recommend Chris After been let down by my previous Instructor I found Chris's website on Google. And after reading the reviews I decided to book A lesson I was very nervous about starting again with a New instructor but from my first lesson he put Me at ease his friendly honest and very patient Also has great teaching techniques like how he. Teachers the manoeuvres so there easy to remember his professional but also makes lessons. Fun And won't put you in for your test until he thinks your ready I would like to say thanks again for helping me. Pass my test 1st time and look forward to doing my pass plus.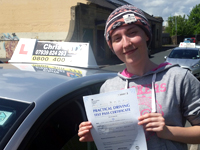 Lucy Greenhough
1st time pass
I've had many instructors since the age of 18 many of them unreliable and overpriced, but Chris is great value for money always turns up is always in contact, great instructor extreamly patient and helpful, and got me my first time pass :).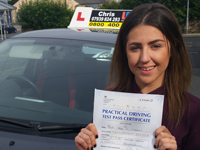 Jade
Passed 1st time
Chris is a fantastic instructor! He used simple methods that no other instructors I had previously would have even thought of to make manoeuvres easier. Built my confidence up, enough that I managed to pass first time! Couldn't have done it without him and I would 10000% recommend him to anyone else.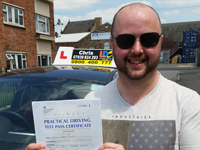 Wayne - Chickenlay
From the 1st phone call right the way through to my 1st time pass Chris was fantastic. When I called I didn't know what to ask I was just going to block book a full course, however Chris advised I go for one lesson to see if not only the car but also if Chris was the right fit for me. Chris also filled me on his 1st time pass rate etc questions for reason I never thought to ask.
It was clear after the 1st lesson Chris was the instructor for me very friendly, professional and logical. I booked the semi intensive course and paid most of it up front, however a 10 hours in I was going to pay Chris the rest but he told me just to hold off as I was progressing a very good rate and that he didn't think I would need the 30 hours. Other instructors may tell you however I am sure most would just take your money and let you continue to drive and not be as honest as Chris was.
I found Chris's logical and clear explanation of things to work very well, not only did he explain things (without going to much and taking up your lesson) in a clear and logical way but sometimes also demonstrated those technics on occasions he needed to and this worked great for me. As he always says "keep looking ahead and read the situation" and you know something he was right and because of this not only did I pass 1st time but I only had 3 minors.
Chris gave me the confidence and experience to breeze through my test. I have already recommended him to a number of people at work and wouldn't hesitate for a second recommending him to a complete stranger as I know they wouldn't be disappointed.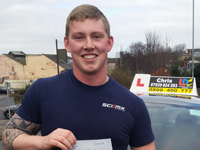 Luke - Batley
I first started learning to drive with Chris after searching for local driving instructors on google. The website I found him on gave him a 5* rating so I got in touch. I'd heard about a lot of instructors just making you sit at the side of the road and talking for the first 3 hours / lessons and that really wasn't what I wanted as i'm a much more practical learner. Driving with Chris as an instructor is a real confidence booster as I knew from the first lesson that he was alert to everything that I, as a learner driver, was still learning to look for and his teaching methods were fast and effective. He gave fantastic advice on everything I had questions about and was always friendly and punctual to lessons. I have recommended Chris to all my friends looking to learn and will continue to do so! Cheers Chris!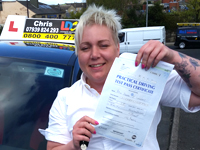 Sarah - Batley
I would highly recommend Chris @ LDC he's a great mentor for any new driver makes u feel at ease and offers advice and reassurance. Knowledgeable and factual with the driving world. Extremely patient helping build your confidence behind the wheel. Lessons are informative and progressive building your confidence each time he lets you know when your ready for test and the lessons are built around you. I passed FIRST TIME which is definitely down to Chris. Great instructor makes learning to drive a good experience !!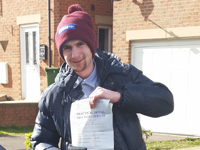 Jason - Liversedge
I would recommend Chris to any of my friends or family his teachings are simple but VERY effective! I strongly believe that if you are wanting to learn how to drive this is how to do it, no messing, no stressing just driving!
I thank Chris for helping me pass my driving test and I wish him the very best for the future.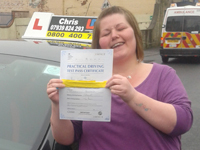 Clair - Batley
Thank you so much for helping me pass my test. You have been fantastic. You have so much patience and understanding and gave me the confidence to do it. I cant belive I waited so long to try but having said that I probably wouldn't have been with you and think it was you professional and relaxed manner that got me through it!! Thank you again...can not recommended you highly enough.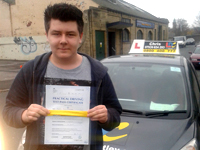 Tom Keogan - Heckmondwike
Learning to drive with Chris has been a pleasure. He has a very patient and understanding approach to teaching people how to drive which helped me to pass FIRST TIME!!. On the day of the test I was initially quite nervous but Chris was able to talk me through anything I didn't quite understand about the procedure which helped to calm my nerves. I would not hesitate to recommend Chris to anyone who is learning to drive, without whom I don't think I would have passed first time. Thanks Chris!!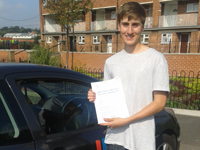 Alex
Chris was a fantastic instructor, from the moment you sit in the car you can just tell that the environment that Chris creates by how he teaches is calm, friendly and professional. He is supportive and clear making each step of driving easier and easier, pointing out little mistakes but then retracing the route so you understand what you missed not just telling you. A fantastic way to learn to drive and after passing my test FIRST TIME round with only 3 minors, I can definitely recommend Chris to anyone who is learning to drive. If you're looking for an instructor that doesn't rip you off, is patient, understanding and calm then Chris is the one for you! Thanks Chris!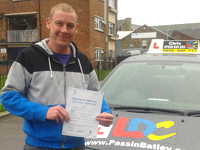 Jamie - Batley
I passed first time with Chris, I would highly recommend to anybody, I was very nervous on the big day but was filled with confidence thanks to Chris, he's a great instructor and very easy to get on with.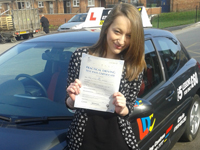 Emma Hudson
I would highly recommend Chris to anyone wishing to learn how to drive. I am a relatively shy person and was very nervous when I first started my lessons, however, Chris instantly put me at ease as he very easy to get along with. He is also very patient, which is very helpful if you're like me and you question everything constantly. Chris thoroughly taught me everything I needed to know and helped me improve on the things I was still struggling with when I neared my test date and it paid off because I PASSED FIRST TIME! Thanks again Chris :)
Scott - Leeds
I'd have no hesitation in recommending Chris to anyone looking to learn to drive! He's a brilliant instructor who know's how to calm your nerves, be very patient and always find the positives even when things aren't going right. His relaxed style of teaching meant I picked up particular driving skills quicker and more efficiently than I had done with other instructors. He was thorough in teaching all the necessary manoeuvres and honest yet supportive in his evaluation of each lesson, adapting the sessions to build on any weaknesses. I've already recommended him to others and can't thank him enough for helping me pass my test!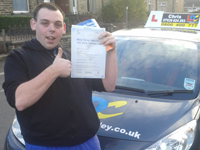 Craig - Batley
I decided to venture into the world of driving and came across Chris online. A bit apprehensive at first, he immediately put me at ease and with each lesson, my confidence behind the wheel grew. He always let me drive and learn at my own pace. As my test day arrived (Christmas eve) we had an hour beforehand to relax the nerves and cover anything we might have missed in previous lessons and I really think without Chris's help I wouldn't have passed on my FIRST attempt. Cheers Chris, I'm now a very happy driver.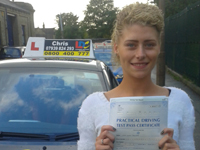 Haley - Batley
I had postponed learning to drive for various reasons for numerous years, so when I decided it was time to proceed with taking lessons I was feeling quite nervous. I searched the internet and stumbled upon Chris on the LDC website and read the good reviews, so decided to go ahead with Chris becoming my instructor. In my first few lessons I was very anxious, but Chris ensured I was put at ease and was patient during my moments of panic. Throughout the whole learning process, Chris ensured he gave clear explanations and followed a strategic plan to ensure my driving was efficient. I would recommend Chris as a driving instructor as he does not only ensure you become a competent driver, he is also reliable and enables you to feel comfortable whilst learning to drive.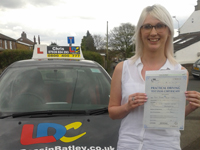 Rachael - Heckmondwike
If you are looking for the best driving instructor- look no further!!
I went from nervous and scared of everything to a first time pass! Chris was patient and a brilliant teacher. Really easy to get on with on and always calm. Thanks for eveything! Could not have passed without you!!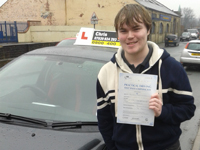 Ben - Birstall
I would highly recommend Chris to anyone wanting to learn how to drive.
He was very patient and knowledgeable, he never got frustrated and always encouraged me after i made silly mistakes. I have also completed the PASSPLUS course with him which gave me extra confidence on motorways. Thanks very much Chris.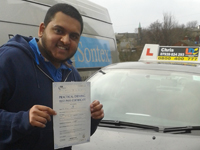 Afzal - Batley
I would definitely recommend Chris to anyone, whether you are a beginner or just someone who needs brushing up. Chris is a very friendly, patient and helpful instructor. Chris's way of teaching is very easy and simple. He always concentrated on my driving and his main aim was to teach me to the best of his ability which he surely did. Also if I made a mistake whilst driving Chris would always be patient with me, and wouldn't tell me off, and would help me correct my mistakes. Overall I would recommend Chris to anyone.
Glen - Wakefield
After my sister passed with Chris first time, it seemed logical for me to have him as my instructor. I could not have been happier with this decision. From a person who has never been confident at learning new things, Chris made me feel at ease and gave me the confidence in myself to pass first time. Whenever I made mistakes, Chris never got angry but instead reassured me and talked me through what I did wrong and how to do it right the next time. Chris has great people skills and was great on test day for me as he really helped me relax and put me in the mindset to pass.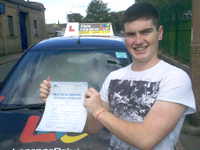 Robert - Dewsbury
I went on an intensive driving course with Chris, and paid for 30 hours tuition I got on with Chris straight away he got straight into it, doing demonstrations of stuff before I did it so it made it easy, very good to talk to and get along with and an all round good teacher he was very approachable and easy to get on with so much so that I passed in 25 hours. Would definitely recommend him to anybody wanting to learn to drive quickly and pass their test first time.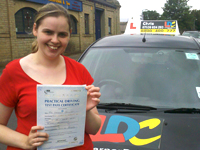 Steph - Heckmondwike
I would have no hesitation in recommending Chris to anyone looking to learn to drive. He is patient, understanding, encouraging and an excellent instructor. I needed to pass quickly and took the semi intensive course. Chris did his best to get me test ready as quickly as he could but in the end I needed more than the 30 hours. That was not a reflection on his teaching- it was just that It took me a long time to master the clutch. Chris estimated I would need an extra 20hours and he wasn't wrong. I passed first time after 49hours of lessons. Chris is very honest and won't drag the lessons out to get more money from you. You won't see him on his mobile phone when he is teaching as he is fully committed to each student and appreciates that they have paid money for his time and expertise.
I was a very nervous student but Chris made me feel relaxed very early on and got me to believe in myself that I would pass. He never showed any frustration when I repeatedly got things wrong, but instead would give gentle reminders as to what I did wrong or should have done. This was a huge help as by the time my test came around I could hear Chris's voice in my head the whole way through telling me what I needed to do. Passing my test was a breeze and it's all thanks to Chris. I couldn't have done it without his help. Thanks again Chris!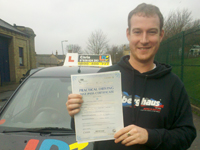 Chris C - Birstall
Took only 20 hours of lessons with Chris and passed first time. Excellent instructor would recommend to anyone. Thanks Chris. Woohoo.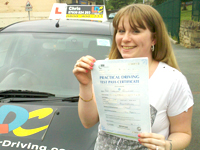 C Butwright
What a guy! After a few years of start stopping my lessons I figured it was time to try again. I shopped around and stumbled across Chris, Im so glad i did. He is friendly outgoing & has a great sense of humour and easily put me at ease. Points out where the little faults are and we worked hard to smooth them out. I never thought in my wildest dreams i would pass, but there it is. I strongly believe i never would have achieved a pass without chris, the right instructor is important with lessons if you dont feel comfortable you wont drive comfortable!! First class service the hand book he also provides is probably the most useful book in the world when learning to drive, Id recommend chris to everyone and anyone, now i just have to figure out how to stop grinning from ear to ear. THANKS CHRIS!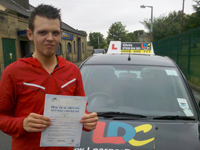 Johnathan - Dewsbury
Highly recommend Chris. He was easy going with great people skills and very patient especially when mistakes are made. He made the experience of learning to drive very relaxed but informative and thanks to his fantastic skills as a teacher I passed my test the first time after 37 hours worth of lessons. As someone of a nervous disposition i found myself calm and confident during the test which i attribute to Chris's belief and confidence in me. I would highly recommend Chris to anyone who wishes to learn to drive.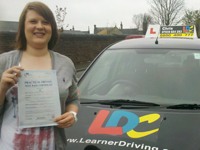 Hannah
I had been taking driving lessons on and off for the past couple of years with different instructors. In the past year I failed my test twice and was starting to feel a bit disheartened about it. I found Chris online and started up lessons with him, he is so patient and really encouraging which made me feel at ease driving. I passed my test today with only 2 minors for the first time with Chris. My only regret is that I didn't find him sooner I really enjoyed my lessons with him and am looking forward to doing my pass plus! Top class driving instructor, you wont find better.
Naomi - Heckmondwike
Having tried learning to drive a number of years ago without success, I was really nervous about starting again. I found Chris online & he helped me find my confidence with his easygoing & straightforward manner. Nothing was rushed but neither was any time wasted. I enjoyed the lessons & found that Chris was great at getting the message across in a positive way; never being critical or judgemental.
I used the driving skills workbook to read up before lessons & found it to be handy for revision too. I passed my test about 25 lessons later, after finally realising I didn't need to sweat the small stuff.
Chris found the right balance for me between teaching, practising & great little pep talks too!
I really did enjoy learning with Chris & I'm feeling strangely positive about driving... :-s
Shazia - Batley
Chris is absolutely awesome............. as an driving instructor ! His instructions were echoing in my ear whilst on the test, which enabled me to do correct things during the test. And in the end I passed with only 4 minors. Not only that I was taken on the same test route which we practice day before the test and on the test day. I would definitely reccommend Chris to those who want to pass their test without wasting more money. CHRIS...........BELIEVE IN THE BEST!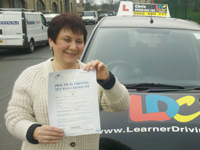 Manana - Heckmondwike
I would like to share my learning experience on how to drive with Chris. Before Chris, I have had three driving instructors and have failed my test on two occasions. I started quiet worried, because I thought I am not capable to learn to drive. But there is always somebody who can assess your ability and with friendly, calm approach build confidence in you.
Chris did share his knowledge in driving and taught me in an easy way how to do up hill start, approach to roundabouts, follow road markings and read the signs for independent driving. These are the areas where most learners are failing their tests. However, Chris is teaching you how to drive not only to pass your test, but for life. I have had 28 lessons with Chris and I have passed my test the FIRST TIME. Also Chris gave me very helpful, free of charge, book where I could read and do a quiz about each part of driving technique. It is very important to have the right instructor who can guide you to the success. The instructor's name is Chris.
Chris, thank you very much for your patient and understanding. Thanks to you i feel confident to drive independantly.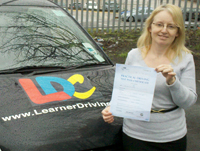 Julie - Batley
Learning with Chris is like learning with a very patient friend he puts you at ease, has a good sense of humour and talks you though everything he wants you to do really clearly, the book he supplies is very helpful pictures and questions are useful both in your lessons and before test.
Chris gives you the encouragement to carry on no matter how many mistakes you think you make he will even do it first as a show and then do exercise.
He is flexible with lesson times and pick up/drop off points which is a bonus when trying to fit in lesson time and work.
At the end of the day I'll miss my lessons now I've passed which may I add shocked me but Chris was confident I was ready, I would recommend Chris to anyone wanting to learn to drive in fact I already have.
Louise - Huddersfield
After having previous instructors from other schools which weren't quite right for me I would just like to thank Chris for helping me pass my test with only minimum minors. Chris is very professional in his approach, always calm, friendly, patient and very reliable, always on time and never lets you down. Chris is a great instructor who is very thorough with his teaching helping you to become a confident and safe driver with the necessary skills required to be out on the road on your own in as fewer lessons as possible. Chris was very good at noticing what mistakes I were making and what I needed more practice on giving me confidence knowing I can do it with different ways of how to tackle a tricky manoeuvre which saw me improving each lesson becoming test ready in no time. Would highly recommend and I look forward to doing my Pass Plus with you soon. Thanks.
Anouska - Dewsbury Moor
If you are sat reading this and wondering if Chris would be the right instructor for you, then i would definatley say a big YES! i found him after having 2 other instructors (both female) of which the last one shouted at me and knocked my confidence so much that i panicked at the thought of ever having another lesson! That was until i found Chris, who not only had the patience of a saint but also instilled so much confidence in me that i am now a fully qualified driver!! something i really thought i would never be able to achieve! Chris was so good with me that i tell everyone whos thinking of or taking lessons to go with him as hes great! and when my teenagers are old enough i will be sending them to Chris! So go on give him a go!
Rachel - Wakefield
Having had a years worth of driving lessons with another instructor and feeling like i was going nowhere with no mention of a test coming any time soon my confidence began to deteriate and i decided it was time to find another driving instructor. I then started having driving lessons with Chris and soon began to find my confidence again. I found that his teaching style was alot more better suited to me and that he was very patient with the mistakes i kept making every lesson. I have had 22 hours of lessons and have just passed my test first time with only four minors and i have to say that i couldnt have achieved this without Chris!
I would strongly recommend Chris to anyone, he made me feel so much better about driving lessons so id like to say a big thank you to Chris! Every lesson i felt like my confidence had grown! Thanks again!
Chris Bartlett - Wakefield
I enjoyed my lessons with Chris, his honest, straight forward approach really helped me to learn. I spent more lessons with my old instructor than with Chris and never seemed to get anywhere. However with Chris i knew i was getting better. He was very honest as well. I had a test booked but Chris told me i was ready for my test and found me a earlier one. I passed first time and would highly recommend lessons with Chris.
Dawn - Cleckheaton
I failed my test 16 years ago and it totally knocked my confidence so this year I decided I was going to do it so I found Chris and im so glad I did, I passed 2nd attempt with only three minors, the 1st one was a disaster I got same examiner as the 1st attempt all those year ago ( only mentioned him outside the test centre saying I hope to god I don't get him hahaha) and it went downhill from then. But I can now say I can drive legally!!!
I would definitely recommend Chris to anyone learning to drive hes a great guy with plenty of patience, a great sense of humour, makes you feel at ease and never makes you feel stupid when you make a mistake so to anyone reading these do it give him a call you will definitely not be disappointed.
Message to you Chris thank you for the last few weeks your a genuine down to earth guy and you should be proud to call yourself a 5star highest rated instructor.
Gemma - Cleckheaton
I passed my test 2nd time with Chris (would have passed 1st time except for a stupid never done before ever error on my first test).
I had about 36 hours worth of tuition. He has the patience of a saint and taught me to drive under what was ocassionally difficult circumstances.
I completely recommend him especially to those needing to learn in a hurry. Unlike some instructors he doesn't mess you about in the hope of getting more money out of you. He is excellent at instilling confidence and I feel that I will be safer driver than some out there because of how Chris has taught me. Thank you ever so much.
Charlotte - Wakefield
I could not recommend Chris any higher. After having a few lessons with two previous instructors, then a few awful outings with my dad, I thought I'd never enjoy driving lessons, I gave up on driving for a year and then found Chris online and decided to give it a go. After just the first lesson I couldn't wait to get going, he is so easy to get on with and built my confidence up straight away.
Chris didn't just teach me how to pass my test, he actually taught me how to be able to drive. He was honest about how ready I was for my test, so I didn't feel like I was put in for it too soon, nor did I think that my test was put off too far.
Although all the above are reasons to go with Chris, I'd say the fact I passed FIRST TIME WITH ONLY 2 MINORS is the best reason of all!!!
Thank you so much!!
Richard - Birkenshaw
I have had 40hours of lessons with Chris and after these I would recommend him to anyone who wants to pass first time and have the confidence to drive after. Chris is a very calm and relaxed instructor but was always on the ball with any faults in my driving and how I should overcome these, he genuinely cared if I passed my test and only booked it for me when I was fully ready and confident enough to pass, he ensured I was ready by making sure my manoeuvres were spot on and that my general driving was perfect, by doing both of these he helped me to feel confident in the driving seat which is half the battle on test day.
Not only is Chris a great instructor he has also just bought a new car which is very learner friendly, with a good driving position, very responsive clutch and big mirrors which helps with manoeuvres. Also, as part of the courses Chris offers I was provided with a LDC book and DVD which I found very useful as they get you ready for your theory test and contains diagrams and videos of all the manoeuvres, signs, road signs and the procedures for approaching potential hazards, junctions and round-abouts.
I have already recommended Chris to several friends who are looking to start lessons as I couldn't have asked for a better instructor to get me through my test and he'll do a good job with these guys.
Christine - Wakefield
Just passed my driving test thanks to Chris. I tried 15 years ago but failed 5 times. Never thought I would be able to bay park but with Chris's perseverence I did it on my test.
I passed 1st time with Chris and it was reassuring to have him in the car on test day.He said he could not control my nerves for me, but I think the confidence he showed in me helped a great deal, and it has amazed everyone I know passing at 45 years old. Thanks Chris.
Charlie - Wakefield
I passed my driving test first time after 20 hours worth of lessons with Chris I found Chris to be a fantastic instructor as he helped me gain confidence whilst driving and the techniques of driving which he uses to teach, if I didn't quite grasp how to do a maneuvers after a fair few attempts then Chris would take the driving seat and show me how it's done correctly which I found great as it helped me understand the maneuvers a lot more. I would recommend Chris as an instructor to everybody he's fantastic. Cheers Chris
Jessica - Halifax
I passed my driving test first time with Chris and could not have done without him, he helped me to become the best driver that I could be and this in turn gave me the confidence I needed to show my driving skills on my test.
Before I started my driving lessons with Chris I had already failed my test six times with another instructor. I decided to try a different instructor with another approach. I found Chris and started lessons with him. I noticed a big difference in my lessons with Chris. I made lots of progress in each lesson and could feel that I was getting closer to being able to pass.
He uses various teaching techniques and is very thorough. He was honest about what I would need to work on to be ready for my test and made sure that I was properly prepared before and on the day. Chris has a very effective teaching style. He was very accommodating with my lessons and we built them up from being once a week to a more intensive course just before my test.
Before having lessons with Chris, I believed I could already drive and had been learning on and off for over two years but I learnt so much more with Chris in just a few months.
Jonny - Batley
100% agree with the things people have said about Chris in their reviews. As a person and an instructor i really cant say enough good things about the guy. really enjoyed our lessons together and was genuinely a little disappointed when i passed (COUGH!first time!COUGH!) and realised there would be no more lessons. Great guy! Great instructor! Great laugh! but still professional. Highly recommended!!!
Nick Wood - Ossett
Chris is a friendly, patient guy and of course an excellent driving instructor. He showed a very professional approach to all our lessons but also kept a relaxed atmosphere for me while I was behind the wheel. I didn't used to look forward to driving lessons with my previous instructor but when I started to learn with Chris this wasn't the case. I paid for an initial 20 hours, and after a further 10 I passed with 4 minors. I would highly recommend Chris to anyone serious about learning to drive. He'll advise you to book your test as soon as he thinks your ready and go through all the test conditions so you know exactly what to expect. Chris was always on time if not early and never canceled / postponed a lesson. Thanks again Chris for all your help.
Kevin - Beeston, Leeds
I was amazed! Not only did I pass first time, but did so with only five minor faults. This was all down to Chris's teaching techniques, his ability to unleash the confidence in you when you're in the driver's seat. He is very calm and patient, and is very thorough. Chris really does want you to pass first time without spending too much money, unlike other instructors out there. He even told me that I did not need the lesson the day before my test. Which is also a testament to how well he had taught me to drive and his honesty?
I am so glad that when I decided to learn to drive, I choose Chris over the hundreds of instructors out there and definitely, I would recommend Chris to anyone who wants to learn to drive.
Sarah - Wakefield
I have had previous instructors & i never seemed to improve as a consiquence i lost confidence and quit.After a break of 5 yrs from driving i found chris & booked lessons, I recomend chris to anyone wanting to start driving lessons, He gave me the confidence back i had lost & after a few short months i had my test & passed.I found him easy to get on with, he put me at ease & helped me to understand my mistakes & improve with every lesson. I will be recomending him to anyone that wants to pass 1st time. Many thanks Chris.
Max Duffy
I have had 23 hours lessons with Chris and about 7 hours with my Dad before i started proper lessons. I have to say Chris is easy to talk to and patient, he listens very well and helps you with all your faults. I would recommend him to any one. He is quite flexible with ref to booking lessons and coped well when i had to delay the start of a lesson due to work. The main reason i would tell others to use him is because *_ I PASSED 1ST TIME!!!! _* Cheers Chris!!! (and Dad!!!)
Sam Taylor - Castleford
Having only taken lessons in fits and starts since I got my provisional, and having had previous instructors who weren't right for me, I decided to take lessons with Chris in July of this year. I found him on the LDC website. He is a very good instructor and professional person who helped me pass with only 3 minors at the beginning of October.
Chris was very good at noticing what mistakes I was making and what I needed more practice on. He made sure we covered everything that might come up on the test and gave me a helpful book and DVD. He also made sure that I kept practicing and encouraged me to go out driving as much as possible to keep learning new skills and encountering different scenarios.
His instructions are easy to follow and he teaches in a way that you will learn to drive as well as learning to pass your test as there are differences. There is often something unusual or unexpected when you are out driving after you have passed your test and the skills Chris has helped me develop mean that I am confident in the driver's seat.
I would recommend Chris as an instructor, as he is patient and polite and his teaching style is suited to anybody.
Imran - Dewsbury
Having taken the odd driving lesson here and there I felt doing the standard one lesson a week over a period of time did not fit with my lifestyle. I wanted a to commit to an intensive course that would make me test ready within 1 week. After searching the internet for many intensive driving courses. I opted for the LDC semi intensive driving course. I rang the office and went through the formalities and was told I would get a call from an instructor from my area.
Chris was very professional, courteous and wanted to get a good understanding of my then current driving skills. This was done on a test run. My basic skills were average however, Chris explained with his instructions and my commitment I would be test ready with in the week. My first lesson with him was progressive and we didn't dwell on the same thing over and over, this really gave me confidence that Chris did really what me to pass in my first test and not waste time like other instructors I have been warned about.
During the course Chris explained what we would cover each day and asked me if there is anything I wanted more practice. His instructions were very clear and easy to understand and always encouraged me which kept me calm and composed. He was very good at spotting my weak areas so that we could apply more focus to these.
On the day of the test Chris summarised everything we learned in the week so it was fresh in my head. I passed in my first attempt with only 8 faults not surprising these were my weak areas which Chris asked to work on, however, my nerves got the better of me. I would highly recommend Chris purely on his teaching style and clear instructions to get you to test standard in minimal time.
Call today on 07939 824293 or Email me to find out more
If you have any questions or to book lessons today, feel free to contact me